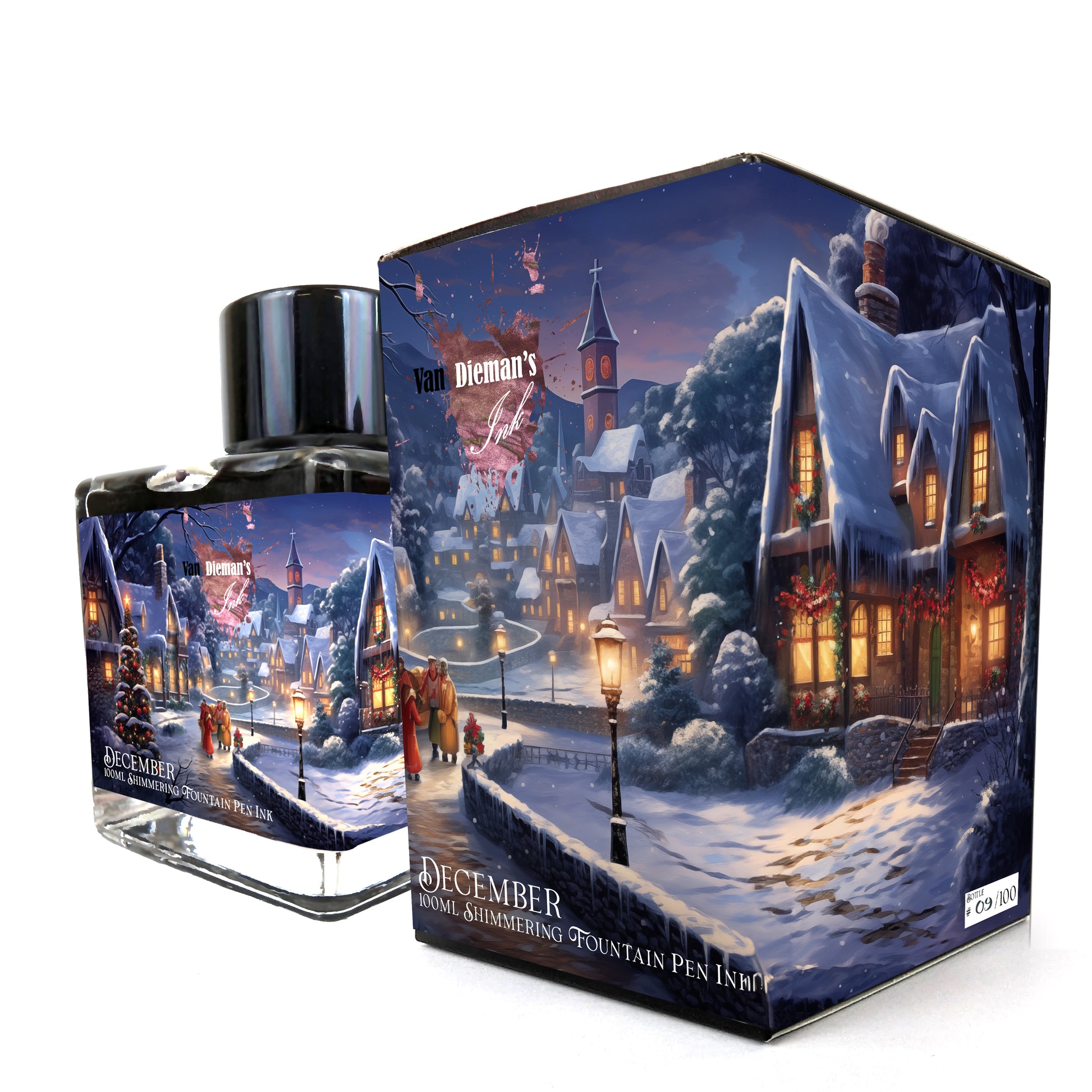 Van Dieman's 2023 December - 100ml Shimmering Fountain Pen Ink
Only 100 hand-numbered bottles made.
Free when you buy any 10 Inks or Ink Additives
Regular price
$35.00 USD
Sale price
$35.00 USD
Unit price
per
Sale
Sold out
Share
View full details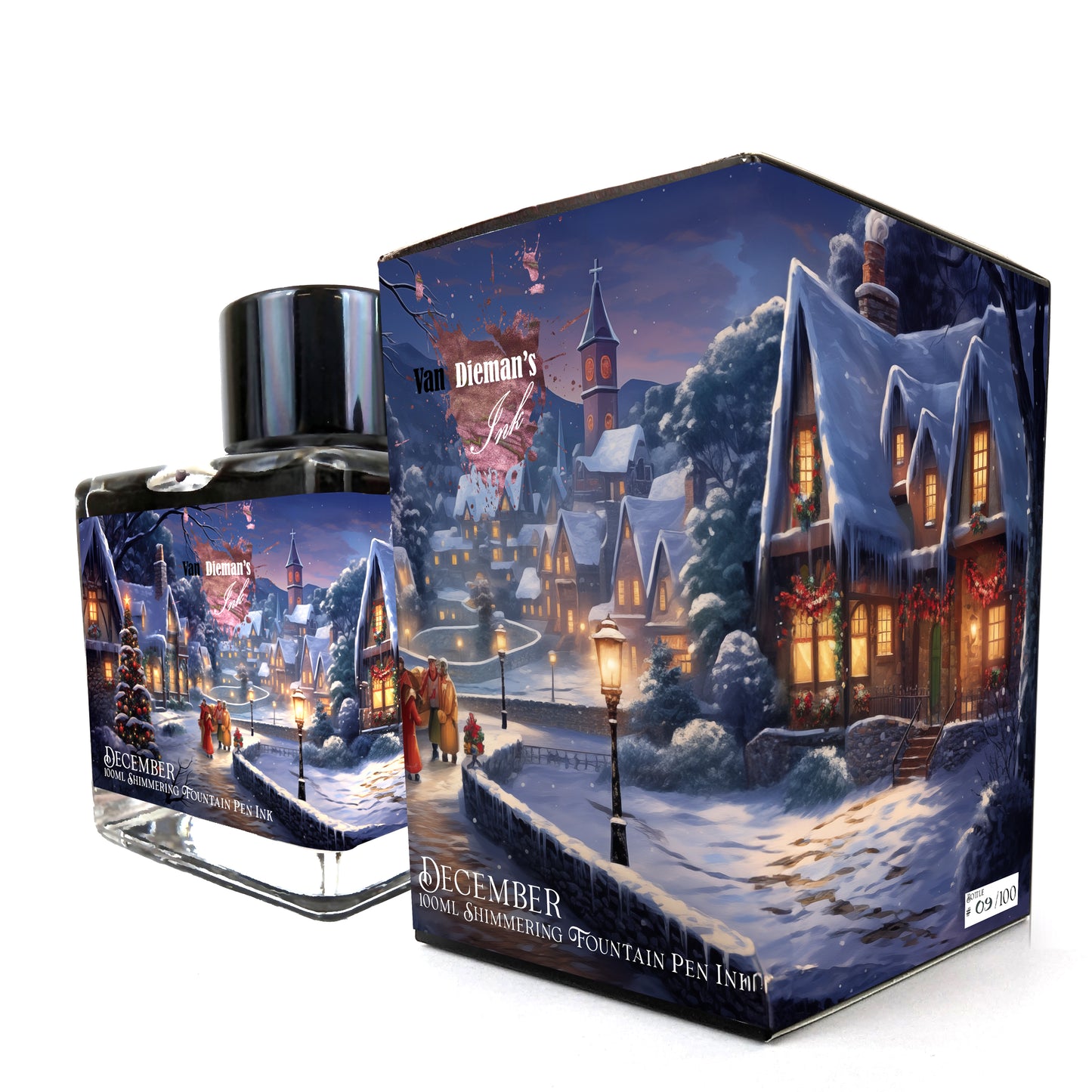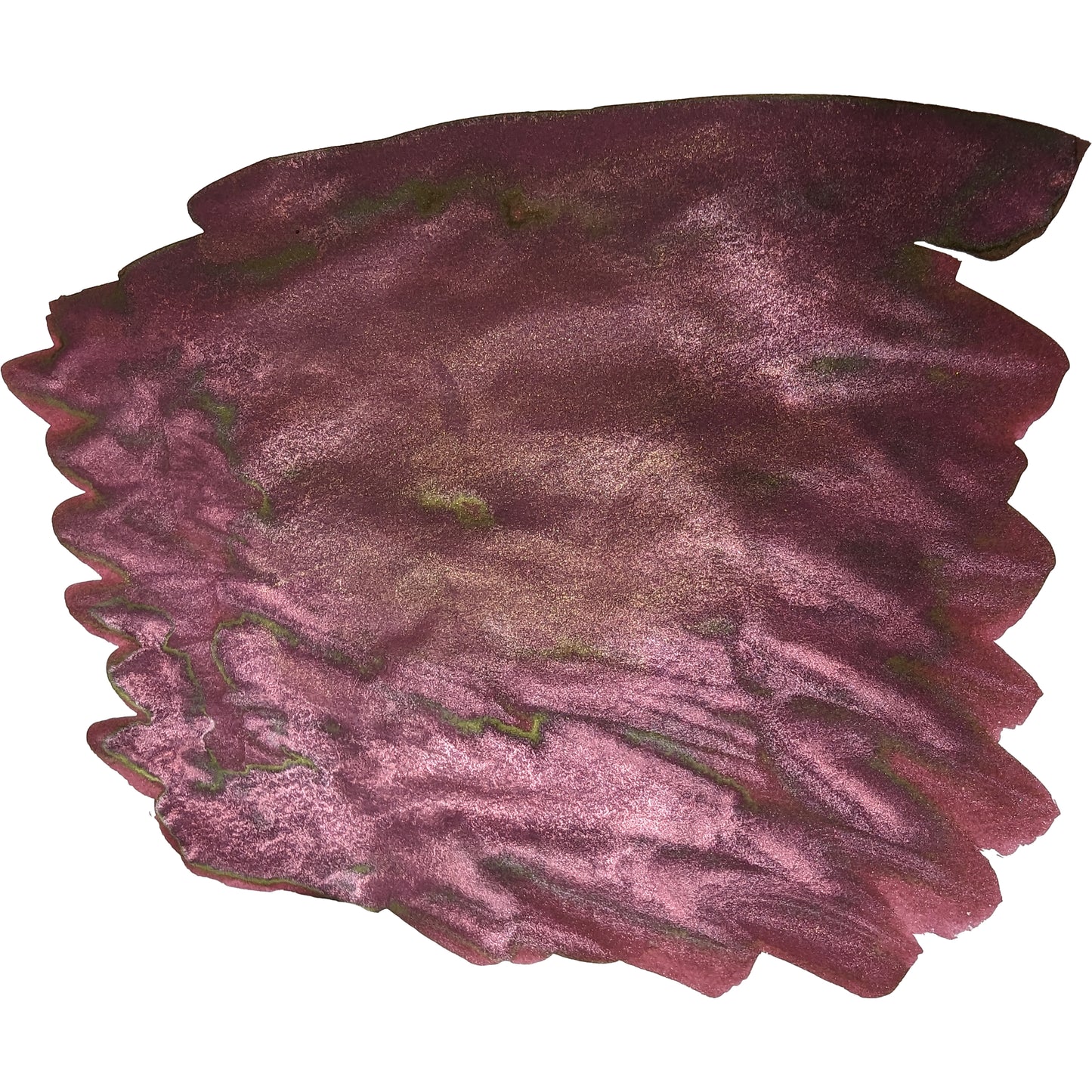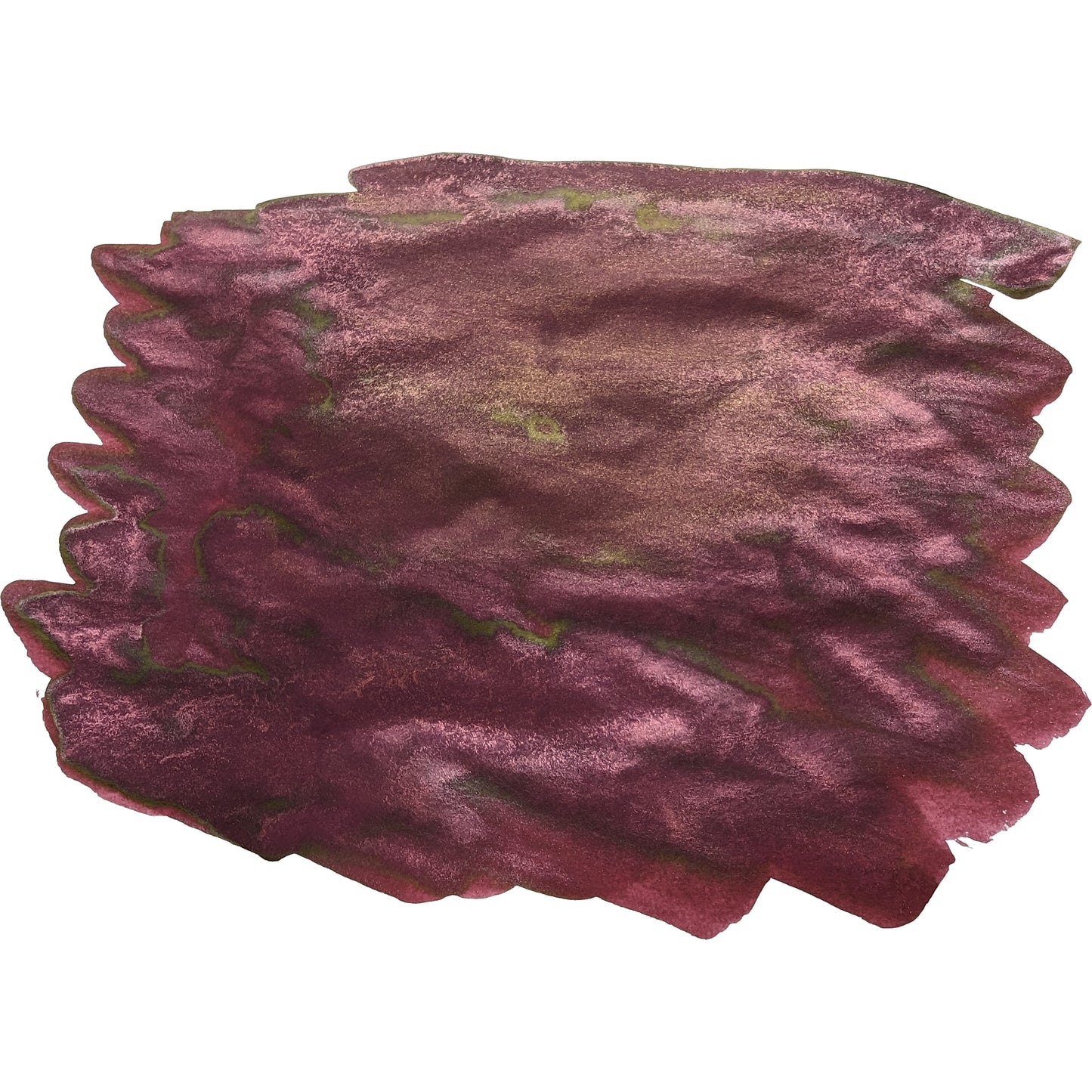 Australia's Best Fountain Pen Ink
Handmade in Tasmania
Van Dieman's Ink is Tasmania's only fountain pen ink company. We design, make, bottle and label our inks by hand in micro-batch processes using at least 90% Australian Ingredients and Pure Tasmanian Mountain Spring Water. All our dyes and ingredients are non-toxic, vegan and environmentally friendly. Our fountain pen inks are unique in design and high in quality. Our inks are smooth flowing with little to no feather or bleedthrough, and a wide range of saturation and hue. Van Dieman's has been making inks since 2016 that are suitable for all major brands of fountain pens, as well as dip pens and brushwork.
Just Scribble Uses The Fusion Green Pack
Van Dieman's Fusion
Handmade Fountain Pen Ink Mixing Kits - Launched November 2023
Voyagers
Voyagers, our newest collection of captivating inks, is inspired by the audacious spirits of legendary explorers. Each colour encapsulates the essence of an intrepid adventurer who transcended boundaries and redefined the world as we know it. From Gudrid Far-Traveller's icy hues and Abel Tasman's dynamic duo-tones, to the unique multichromatic wonder of Woollarawarre Bennelong and the oceanic grandeur of Kay Cottee, each ink tells a story of courage, discovery, and unyielding spirit. Unleash your own adventurous spirit with Voyagers, and embark on a journey across the page that knows no bounds.
Certified Australian Made and Owned
Van Dieman's Ink has ALWAYS been Australian Made and Owned in Launceston, Tasmania, by Australian born owners and Inksmiths Belinda and Peter Rix. We have recently applied and been approved for the Australian Made and Owned Logo, so now have the certification to prove it.
Every single bottle contains a minimum of 90% Australian Ingredients, including 100% Tasmanian Natural Mountain Spring Water and a wide array of Australian Made dyes and ingredients, and is hand-made in micro batches, hand bottled and hand labelled right here in our Ink Studio. With Van Dieman's Inks, you can truly know you are supporting Australian Made AND Owned!
Our Ink Additives
Regular price

$14.00 USD

Sale price

$11.00 USD

Unit price

per

Regular price

$18.00 USD

Sale price

$14.00 USD

Unit price

per

Regular price

$13.00 USD

Sale price

$10.00 USD

Unit price

per
Birds of a Feather
Van Dieman's Birds of a Feather collection is a vibrant tribute to the avian world, each ink capturing the unique hues and characteristics of a specific bird. From the iridescent magenta of Anna's Hummingbird's face to the striking blue-black of the Blue Jay's wing, these inks embody the beauty and diversity of our feathered friends. The collection is a testament to nature's palette, offering a range of colours and effects, including shimmering inks that reflect the iridescence of bird plumage. Whether you're an ornithologist at heart or simply appreciate the beauty of nature, this collection offers a unique way to bring a touch of the wild into your writing.
Night
Regular price

$11.00 USD

Sale price

$11.00 USD

Unit price

per

Regular price

$11.00 USD

Sale price

$11.00 USD

Unit price

per

Regular price

$11.00 USD

Sale price

$11.00 USD

Unit price

per

Regular price

$11.00 USD

Sale price

$11.00 USD

Unit price

per

Regular price

$11.00 USD

Sale price

$11.00 USD

Unit price

per

Regular price

$11.00 USD

Sale price

$11.00 USD

Unit price

per

Regular price

$11.00 USD

Sale price

$11.00 USD

Unit price

per

Regular price

$11.00 USD

Sale price

$11.00 USD

Unit price

per

Regular price

$11.00 USD

Sale price

$11.00 USD

Unit price

per

Regular price

$11.00 USD

Sale price

$11.00 USD

Unit price

per

Regular price

$11.00 USD

Sale price

$11.00 USD

Unit price

per

Regular price

$11.00 USD

Sale price

$11.00 USD

Unit price

per

Regular price

$11.00 USD

Sale price

$11.00 USD

Unit price

per

Regular price

$11.00 USD

Sale price

$11.00 USD

Unit price

per

Regular price

$11.00 USD

Sale price

$11.00 USD

Unit price

per